The workshop
The heart of our company. Motorcycles are maintained, built, overhauled and restored here. We have now built up a nice machine park. Much of the restoration work is done in house, Turning, milling, polishing and blasting. Painting and overhauling the crankshaft and cylinder heads and cylinders are done elsewhere.
Below you can see what we do: showing, restoration, overhaul and service & maintenance. Have fun with this tour.
Showroom of our Guzzi motorcycles
Restoration of your Guzzi engine
Overhaul of your Guzzi engine
Service & maintenance of your Guzzi engine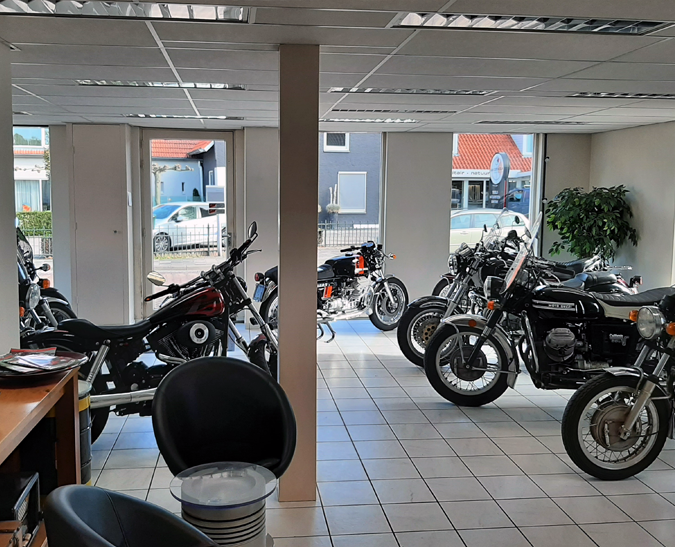 Over 40 years of Guzzi experience
Our showroom
In our showroom you can encounter all Guzzi's, from the Falcone to the California. From the V7 Sport to a V11 Sport. You can keep track of this on our website! Restoration and overhauls have become our main focus.
In the showroom you will therefore also find engines that we still want to start! You are of course very welcome for a cup of freshly brewed coffee and a closer acquaintance. In short, well worth a visit. An appointment in advance is nice.
Restoration, revision & service
Your Guzzi bike is in good hands with BCI Motorbikes. We arrange the restoration, overhauling, service and maintenance.
Restoration
Real restoration is a profession in its own right. For us, the story starts with the block. Always! That just has to be good and safe.
We always look at what is needed per engine in our stock and look for the balance. Restoration is a matter of feeling.
Revision
For all revision work, you can contact us with a price estimate in advance.
Cylinder heads to be overhauled or modified to run on unleaded petrol, grinding crankshafts, camshafts, blasting, installing oil filters in filterless models.
service & maintenance
The workshop is well equipped with all tools and equipment and Peter now has about 40 years of key experience.
You have come to the right place for: Turning and milling, blasting, cleaning and polishing. Maintenance of the later Guzzi's is of course no problem. We focus on the entire Moto Guzzi range.

What customers say